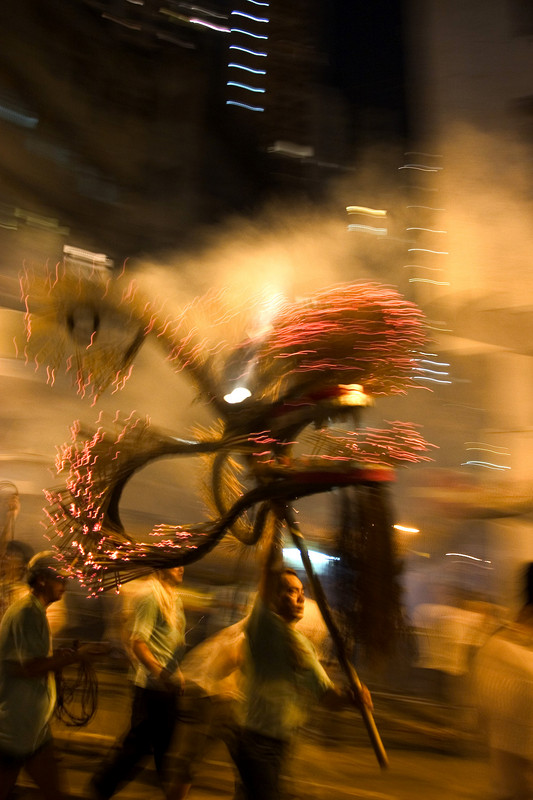 photo courtesy of Jeffery on fotop.net
On October 1 the world watched China's parade of extravagance and obsession with power. There was celebration around Hong Kong too, parade featuring compulsory participation of local school children, fireworks, exhibitions and whatnot. This year's buzz coincided with the Fire Dragon Dance, an annual celebration of the mid-autumn festival (think moon cakes), in my neighborhood Tai Hang. From what I've heard, the fire dragon dance started as a religious ritual to repel evil--before all the reclamation in Hong Kong, my district was close to the sea and big about goddess worship for protection of fishermen. Now it's one of the focal points for local photographers, or travelers who come into town at this time of the year.
During the three-day festivity, families and shop owners in Tai Hang have barbecue on the streets into early morning. Children stay up, play with their lanterns, bikes and pets. Some elderly turn up the volume of their Mandarin oldies or Cantonese opera. On such nights the cops drop by to remind people to keep their voices down, but no warning or parking fines are issued. Everyone is free to enjoy themselves.
My national day holiday has been quiet but exciting in its own way. On October 1 I spent the day reading, then saw District 9 with my friend
Jimmy
who's back from NYC to visit his family. There's no way for me to gauge if it's a good SF or entertainment film--I rarely see such movies and I went because of dear Jimmy (I bet he isn't reading this).
Later in the evening I hopped over to my filmmaker friend Derek's, who has movies of every imaginable genre from every era in his home collection. A rare find is a pirate copy of Andy Warhol's Chelsea Girl--according to Derek, the DVD was in print in Italy for one year and then deleted. Apparently some film bugs in China had the foresight and resources to get hold of it, and preserve it in high quality, cheaply priced pirate copies that ended up in the 'pornography' section in a local DVD shop.
Thanks to her mastery in making fake copies in every kind of merchandise, China has risen - in the mind of people like Derek and me - as the preserver and promoter of some of the world's finest art house films in the last few years. If you can't find the DVD of an European independent film, come to Hong Kong and get one for US$3.5. It'd be the best version available - French edition detailed production notes, Italian edition with cast interviews and additional footages. There was even one mainland Chinese who came into Hong Kong to sign pirate copies of his movies, on sale at a popular DVD shop that was later slammed down by the police.
Another surprise for me was the Korean director
Hong Sangsoo
, who captures the hopes and disappointments of the mundane with light, accurate touches. The settings, characters and plots are utterly realistic, yet they surprise through comic juxtapositions. A loser leaves a failed business meeting, checks into a sordid motel room and waits for a prostitute. Afterwards he showers and sees the condom has gone missing. Frantically he washes his penis and rubs it with toilet paper, as the call girl looks on and laughs. The next shot is the guy in a clinic, having a blood sample taken for an AIDS test.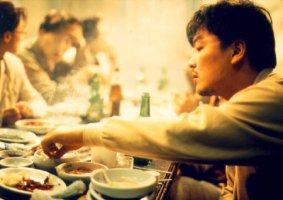 The Day a Pig Fell Into the Well (1996)
The best is when this loser sits down in bed, looking absolutely deflated--his round arched back and his fat belly stand out like true signs of his pathetic existence. Both Derek and I are amazed by the casts. Was it brilliant acting, or where did the director find actors that embody the essence of his characters so well? Here in Hong Kong we're lucky to have access to amazing movies from around the world. I, for one, celebrate my city's connection with her motherland in bringing in these wonderful movies. Here's to the power of China!